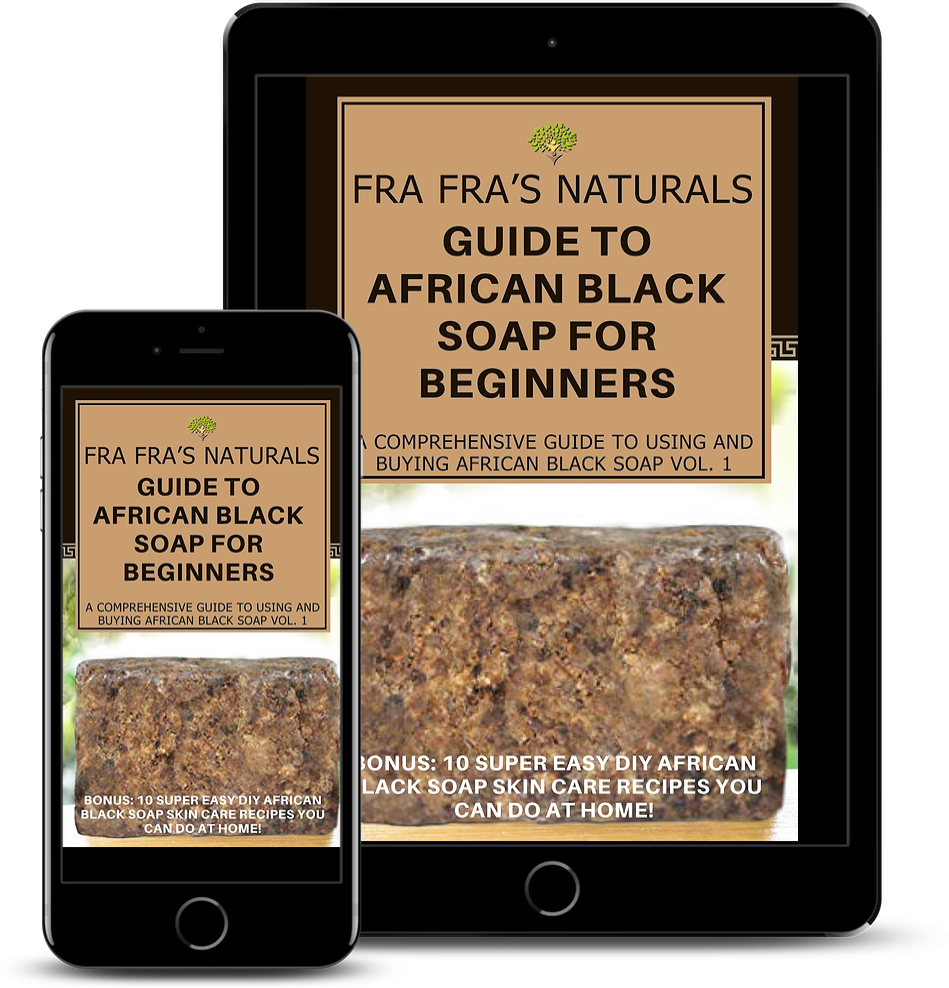 Fra Fra's Naturals Guide To African Black Soap For Beginners Vol. 1
Description
African black soap has garnered a cult like following and for good reason. This all natural cleanser is handmade by the women of western Africa using a centuries old secret recipe. This soap is packed with vitamins A and E, antioxidants and essential fatty acids that hydrate, nourish and repairs skin cells. African black soap is known to be used successfully to treat eczema, psoriasis, rosacea, contact dermatitis, fungal infections, chronic acne and more. African black soap detoxifies the skin, balances our pH levels and protects it from free radicals and UV damage. More amazingly African black soap is good for all skin types. It is so gentle it can even be used on newborn babes. 
Unfortunately there is a lot of confusion and misconceptions about authentic, raw, unrefined African black soap. Fra Fra's Naturals Guide to Authentic African Black Soap for Beginners is designed to help people looking to make the switch to natural skin care by sharing the rich history of African black soap and teaching readers how to use African black soap effectively to meet their skincare goals. 
*This book will help you take toxic products out of your skincare lineup.
*This book will teach you how to use African black soap for a variety of applications
*This book will help you reap the benefits of an all natural, organic, vegan soap
*This book will teach you how to know the difference between Authentic, raw, unrefined African black soap and imitation "African Black soap"
*This book includes a bonus 10 diy African black soap skincare recipes have been included to help readers take care of their skin without using high cost, low quality, chemical laden products.
DOWNLOAD THIS BOOK TODAY TO START REAPING THE BENEFITS OF AUTHENTIC AFRICAN BLACK SOAP AND EXPERIENCE MOISTURIZED, RENEWED, GLOWING SKIN
Shipping Info
Our company implements Carbon Neutral Shipping, and it's completely free for you! This implies that we finance reforestation projects and tree planting to neutralize the carbon dioxide released during the shipping process. These efforts aid in the removal of carbon from the atmosphere.
Fra Fra's Naturals Guide To African Black Soap For Beginners Vol. 1