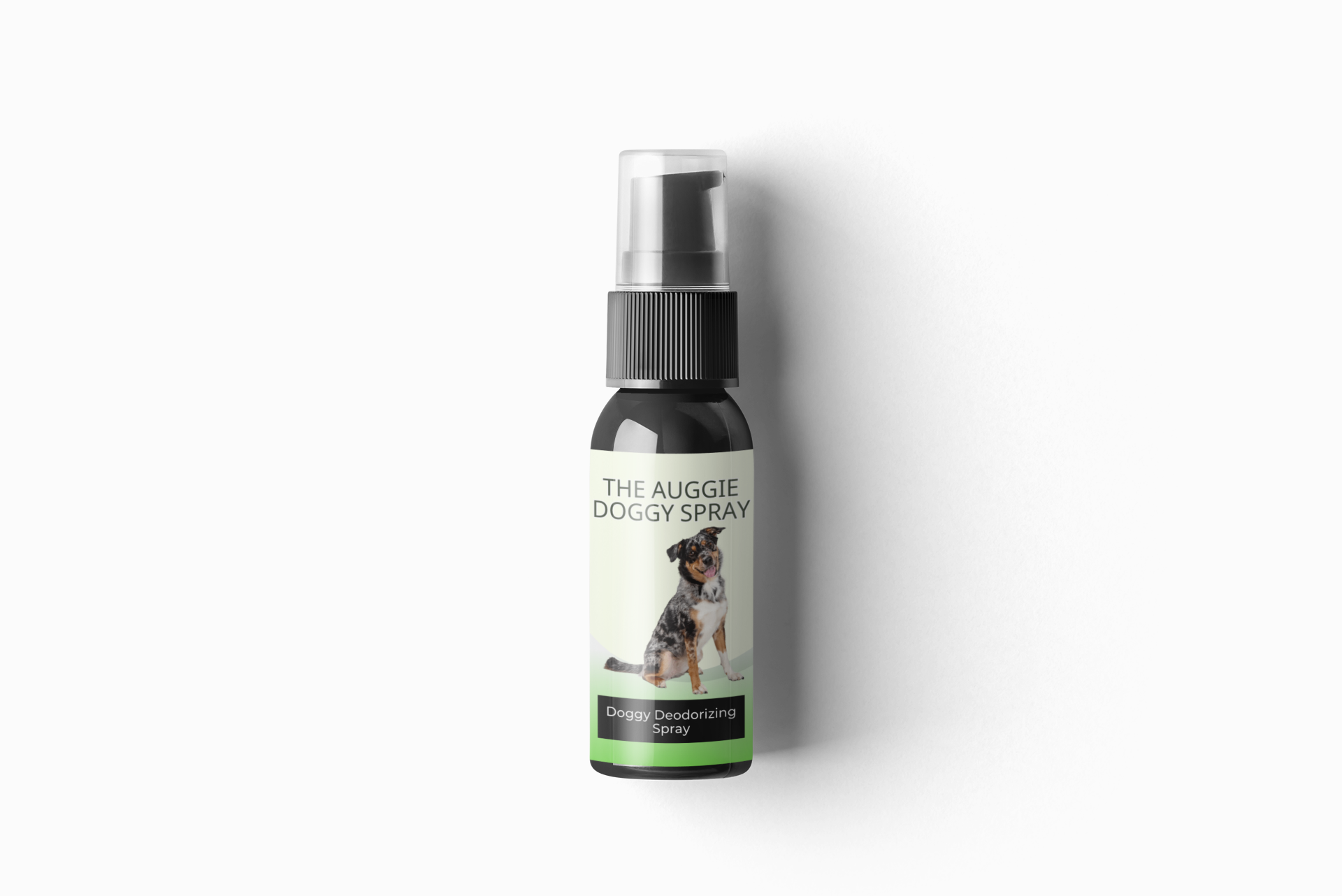 Fra Fra's Naturals | The Auggie Doggy Spray
$14.49 USD
Regular price
$16.99 USD
off
Description
Introducing The Auggie Doggy Spray - the perfect solution for keeping your furry friend smelling fresh and clean! Our deodorizing spray is specially formulated with the power of essential oils to neutralize odors and leave your dog's coat smelling delightful.

The Auggie Doggy Spray is now available for pre-order, and we have an exclusive offer just for you! Order now and enjoy a fantastic 50% discount. Be one of the first to experience the wonderful benefits of our deodorizing spray.


Choose from three invigorating variations:


Chamomile and Ginger:

Chamomile: Chamomile essential oil is known for its calming properties. It can help soothe anxiety, stress, and nervousness in dogs, promoting a sense of relaxation.
Ginger: Ginger essential oil has anti-inflammatory properties and aids in digestion. It can assist dogs with gastrointestinal issues such as nausea, vomiting, or an upset stomach.



Rosemary and Myrth:

Rosemary: Rosemary essential oil offers antimicrobial and antioxidant properties. It supports healthy skin and coat in dogs, promoting a shiny and vibrant appearance. Additionally, rosemary oil has a stimulating effect, which can improve focus and concentration.
Myrth: Myrrh essential oil is known for its antimicrobial and wound-healing properties. It aids in maintaining good skin health for dogs and supports the healing of minor cuts, scrapes, or skin irritations.



Frankincense and Lavender:

Frankincense: Frankincense essential oil is valued for its calming and soothing effects. It helps reduce stress and anxiety in dogs, making it beneficial during stressful situations like travel or thunderstorms. Frankincense oil may also support respiratory health and create a sense of relaxation.
Lavender: Lavender essential oil is widely recognized for its calming properties. It helps alleviate anxiety and promotes relaxation and better sleep quality in dogs. Lavender oil can also offer mild analgesic effects and assist in soothing minor skin irritations.

By carefully selecting and combining these essential oils, The Auggie Doggy Spray provides a refreshing and aromatic experience for both dogs and their owners. The unique properties of each essential oil work synergistically to neutralize odors while offering various wellness benefits for your beloved canine companion. Enjoy the delightful scents and the positive effects they bring to your dog's overall well-being.

Please note that The Auggie Doggy Spray is intended for external use only. Consult with a veterinarian before use if your dog has specific skin conditions or sensitivities.
Shipping Info
Our company implements Carbon Neutral Shipping, and it's completely free for you! This implies that we finance reforestation projects and tree planting to neutralize the carbon dioxide released during the shipping process. These efforts aid in the removal of carbon from the atmosphere.
Fra Fra's Naturals | The Auggie Doggy Spray
$14.49 USD
Regular price
$16.99 USD