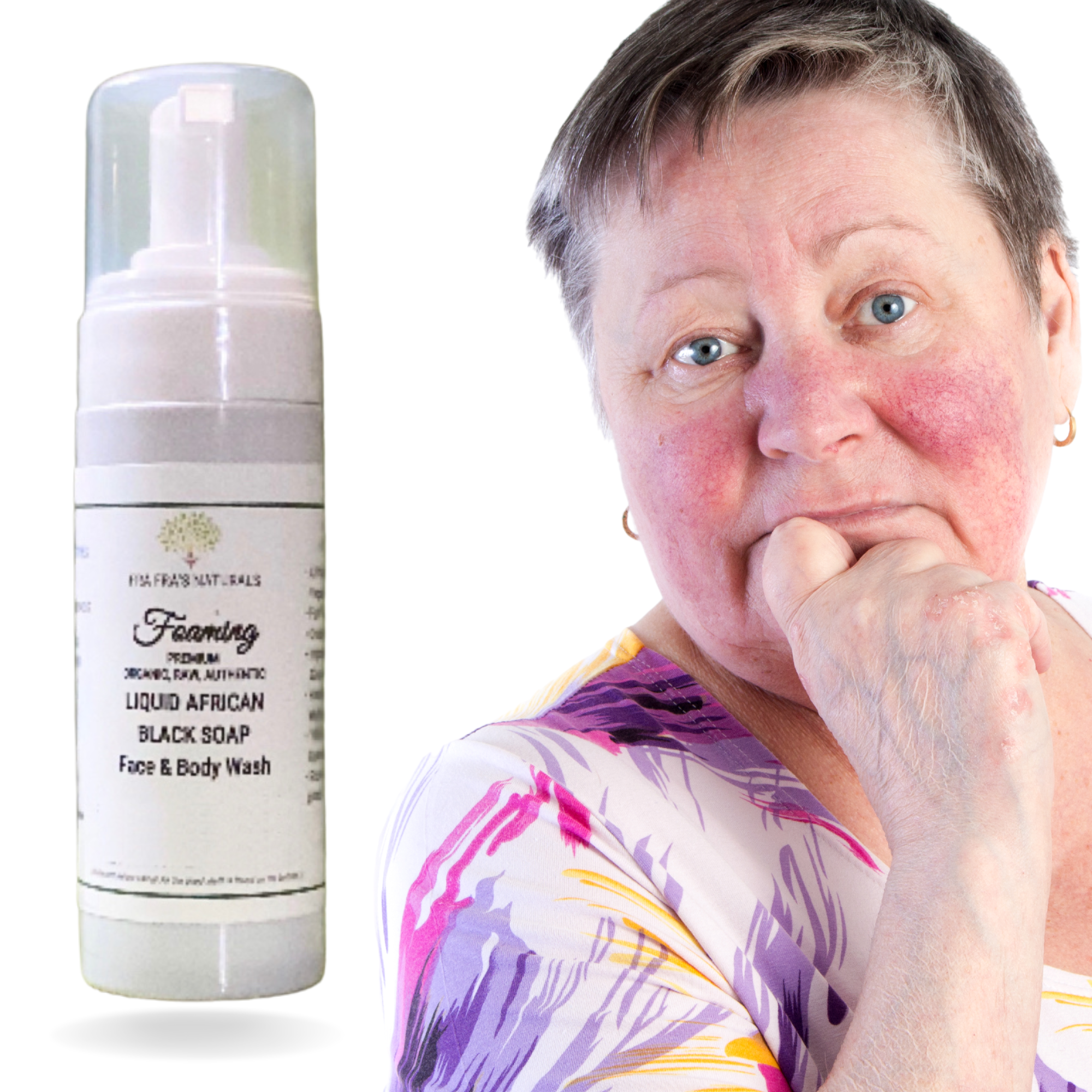 Fra Fra's Naturals | Premium Extreme Healing Rosacea Foaming African Black Soap Face and Body Wash
Description
Rosacea is a skin condition characterized by redness, visible blood vessels and tiny bumps around the cheeks and nose. Shea butter is packed with healing properties that repairs the moisture barrier, reduces redness and inflammation and minimizes the acne bumps associated with Rosacea.
African Black soap contains cocoa pods, coconut oil and Shea butter among other skin beneficial plant based ingredients. These ingredients helps to moisturize and relieve irritated or itchy skin. It also reduces hyper-pigmentation, kills free radicals, and reduces redness and swelling.
African Black soap is a powerful and versatile skin care product and with the added benefit of lavender, chamomile and geranium essential oils not only will your skin thank you but you will smell divine as well.
As with all of our blends, each combination of essential oils are specially formulated to reduce the symptoms of Rosacea and encourage the growth of healthy skin cells.  The best thing about these products is that they are good not only for your face but your whole body as well. Use it everyday and see the results!
PRODUCT SIZE
6 oz 
Shipping Info
Our company implements Carbon Neutral Shipping, and it's completely free for you! This implies that we finance reforestation projects and tree planting to neutralize the carbon dioxide released during the shipping process. These efforts aid in the removal of carbon from the atmosphere.
Fra Fra's Naturals | Premium Extreme Healing Rosacea Foaming African Black Soap Face and Body Wash