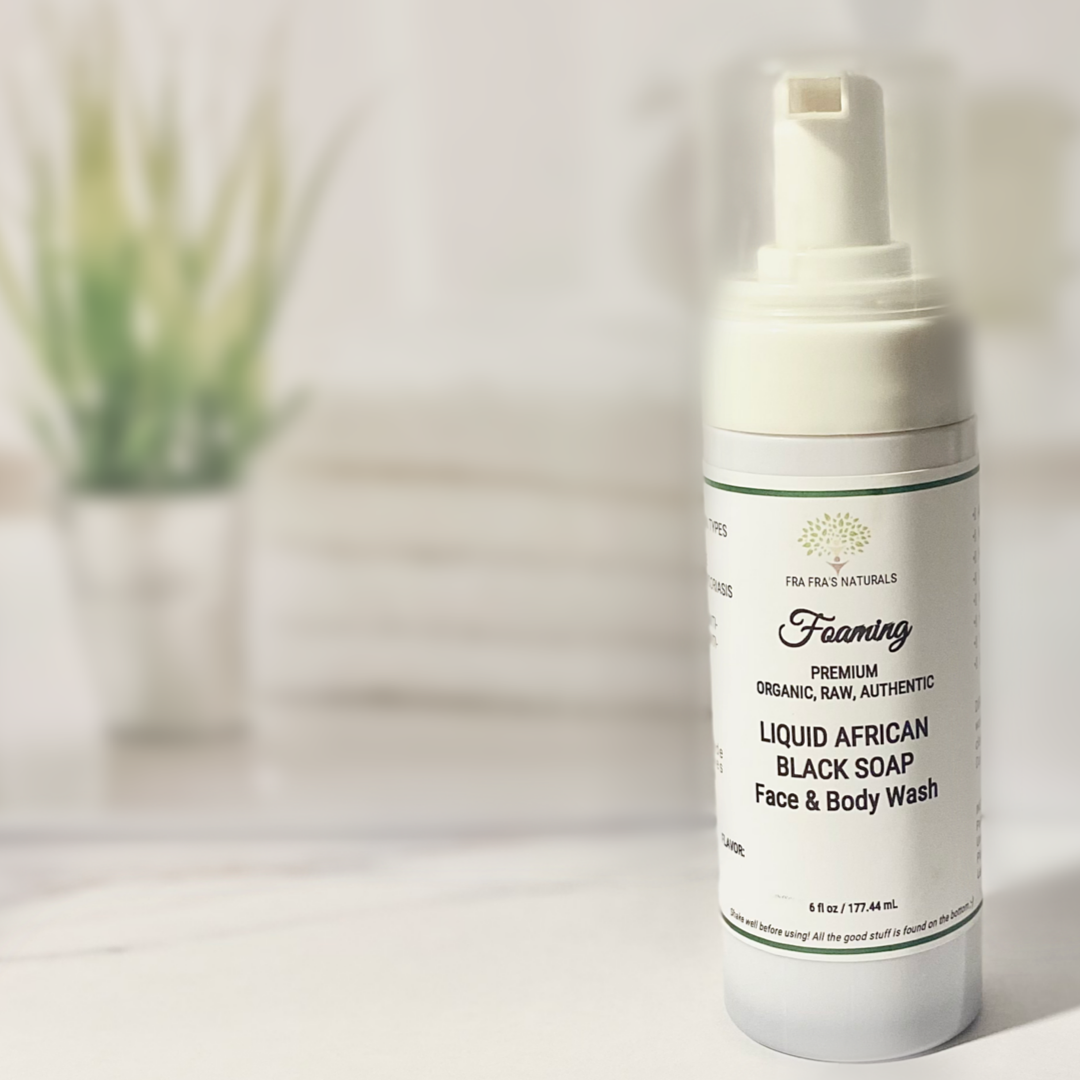 Fra Fra's Naturals | Premium Healing Sunburn Foaming African Black Soap Face and Body Wash
Description
Fra Fra's Naturals | Premium Healing Sunburn Foaming African Black Soap Face and Body Wash
Fra Fra's Naturals Premium Foaming African Black Soap Face and Body Wash is completely organic and toxic free. The Healing Sunburn Blend Liquid African Black Soap infused with a blend of soothing  Chamomile and healing Eucalyptus essential oils is a natural source of Vitamins A & E, Iron and is excellent for all skin and hair types and conditions. 
Chamomile  essential oil has been used for centuries, potentially even thousands of years, as a multi-use herbal remedy because of its soothing and calming properties. Its powerful anti-inflammatory properties speed skin healing

Eucalyptus is a great essential cooling oil to heal skin and cool burns. This oil has anti-inflammatory and pain relieving properties that alleviate sunburn quickly. With its antibacterial properties, it can also protect sunburned skin from infection. 
COMMON USES:
Treats sunburn 

Moisturizes dry skin and improves moisture retention 

Supports collagen production keeping skin firm and supple

Prevents free radical damage 

Evens skin tone

Balances skin pH levels

Fights the bacteria that causes acne

Helps reduce the redness and swelling
Reduces fine lines and wrinkles
Minimizes scars and blemishes
Soothes razor bumps
Gentle clarifying shampoo 
DIRECTIONS:

Pour a small amount of liquid black soap on your palm, wash cloth, sponge or loofah. Bring soap to a lather and apply to skin and hair. Massage soap gently into skin and rinse.
WARNING:
For external use only. Product contains nut by-product. Shake well before using. To maintain  freshness store in a cool place inside and out of direct sunlight.
PRODUCT SIZE
6 oz
Shipping Info
Our company implements Carbon Neutral Shipping, and it's completely free for you! This implies that we finance reforestation projects and tree planting to neutralize the carbon dioxide released during the shipping process. These efforts aid in the removal of carbon from the atmosphere.
Fra Fra's Naturals | Premium Healing Sunburn Foaming African Black Soap Face and Body Wash